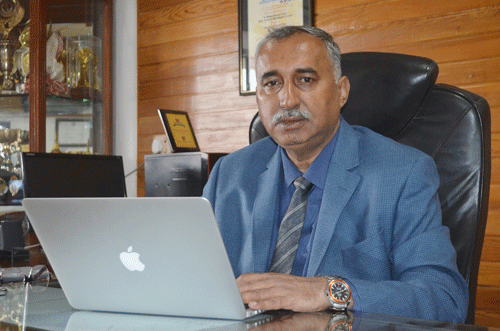 Dr. N.K.Dutta




Founder & Principal
In developing a culture for learning!
MBRS follows the International Model for Schooling with its four elements of Universal Values. Excellence in All Things. Global Understanding and Service to Community.
These 4 elements for 21C learning is achieved by an approach where teaching is not teacher but student centric with focus towards making the child self directed through building qualities of responsibility. engagement and accountability.
The pedagogy is taught not to confine their teaching within the four walls of the classroom but extend and connect it to the outside world of experiential. expeditional and real life learning. To enable this a teacher is made to develop a repertoire of teaching tools. techniques and strategies.
We strive to meet these ingredients by a comprehensive initiative which we call the Principal's Whole School Improvement program emphasizing the following three broad areas:
– Raising Academic Excellence
– Improving Behavioural Standards
– Teacher Enrichment and Assessments
As a Head I believe in the immense potential of every child which can be realized when we envision our roles as an instructional leader where the three components of the instructional core -Teacher. Content & Student: is in constant interaction with one another.
Academic Background:
Dr. N.K.Dutta, has his schooling from Tuensang Govt. High School, Tuensang in Nagaland. After completing his pre-degree (Arts) from the renowned Cotton College, Guwahati, he completed his Bachelor and Masters in History from prestigious Kirorimal College under Delhi University. Further, he did his Bachelor of Education, Master of Education and Bachelor of Law from Gauhati University. He did his Ph.D in History from Tilak Maharashtra University , Pune. Presently, he is selected to pursue the Doctorate of Education program by the Exeter University, UK.

Professional Background:
Inception and Funding of the Miles Bronson Residential School, Guwahati.
Dr Nripen Dutta founded the Miles Bronson Residential School in 1987 with only 17 students in a rented house. With surging demand of students and the need for more space, our School was shifted to Beltola in 1990 with 98 students. Initially it started functioning with two buildings, but extended to include nine buildings all under lease or rent. In the next 10 years, the student capacity increased remarkably in between 1990-2002 and it stood at 240 resident students. In 2002, MBRS shifted to its permanent complex at Borjhar. The students intake capacity has swelled to its maximum present intake capacity.
Since then the School has grown rapidly and has now established in its own premises with permanent complex over a sprawling campus of 28 acres of land, providing all facilities for quality education. Our school which is the only purely boarding English Medium School in the city, now has a full capacity of 547 boarders coming from different parts of the North East. In addition it houses another 400 teaching, non-teaching and support staff.
Awards, Honours and Experience
(a) Dr. N.K. Dutta, Founder & Principal Miles Bronson Residential School received the Indian Green Building Council (IGBC) Silver Award at Mahatma Mandir Auditorium in Gandhinagar, Gujarat on 19th Nov 205 in Presence of Shri P.C.Jain, Chairman, IGBC and other dignitaries. MBRS is the first school in eastern India and north-east India to be confined with the award.
(b) Selected this year and attended for the Prestigious Project Zero Classroom Programme by the Principal's Centre, Harvard Graduate School of Education, Harvard University, Boston, USA.in July 2015.
(c) Awarded as the Best District Principal Award (2015) conferred by Science Olympiad Foundation for exemplary performance by our Bronsonians in Science Olympiad examination.
(d) Recently shortlisted for the Head Masters Conference (HMC), UK for membership to elite confederation of reputed Principals.
(e) Dr Dutta has been appointed as the convener of the Central Board of Secondary Education Inspection Committee for Affiliations of new schools. He is also appointed to represent the North Eastern Region as the Head Examiner and Subject Expert (Social Science) recently by the CBSE, New Delhi. He represents the Region as a Regional Sports Advisor to the Board.
(f) Awarded Educational Leadership Award 2010 by the Educational Leadership International Roundtable Conference, Lucknow, 4th August, 2010 by Dr. Sunita Gandhi, Director of City Montessori Schools, Lucknow
(g) Conferred the 2nd North East Excellence Award in the Large Entrepreneur Category by the Indian Chamber of Commerce for contribution in the field of education in Jan 2011 by B.K. Handique, Minister of Development Of North Eastern Region.
(h) Awarded Best Principal Trophy in 4th International Mathematics Olympiad by Science Olympiad Foundation for the continued support rendered towards popularization of Mathematics in North East, by Mathematics Olympiad Association
(i) Recipient of the SOE Global Education Awards, 2012 in the category "Mentor Who Changed Lives" on 16th of December, 2012 at the India International Centre, New Delhi, by former Indian Cricket Captain S. Sreekant.
(j) He participated in the first Anglo Indian Conference "All Your Future", Liverpool, UK on 2nd July 2010.
(k) Selected by the Confederation of Indian Industry, North East Chapter to represent the state with a team of entrepreneurs to Myanmar and Thailand.
(l) Selected and successfully completed the Leadership- An Evolving Vision Program in July 2011 at the Principal's Center, Harvard Graduate School of Education, Harvard University, Boston, USA.